Website Design
We Design Websites for Any Industry and Mainly Events Industry
Logo Design
Logo is Your Brand, and We Build Your Brand Well.
Creatives Design
Be it a Live Event or Any Event, We Design Creatives and Invititions
Video and Photography
We Provide Video and Photography to any Live Events in Bangalore
MICS AND LIGHTS
Be it Any Kind of Event, We've Mics and Sounds for You
LIVE Events
We've a Very Vast List of Live Artists for Any Kind of Live Events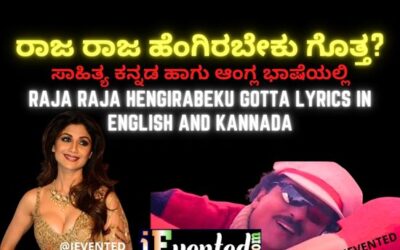 Raja Raja Kannada Song Lyrics is as crazy as the actor crazy star Ravichandran himself. Wow.. The raja raja song...
ನಿಮ್ಮ ಶುಭ ಸಮಾರಂಭಗಳಿಗೆ ನಮ್ಮ ಕಲಾವಿದರ ಕಾರ್ಯಕ್ರಮ ಇಡಿಸಿ