Big Bull Temple Bangalore Timings is the first thing you gotta search before visiting the Bull Temple, in Basavanagudi.
Did you know Basavanagudi in Kannada means Bull Temple? Yes, the place of our constituency is named after the Bull Temple Bangalore.
Big Bull Temple Visual Story You Never Wanna Miss to See In Order:
This is the entrance by which you enter the Bull Temple in Basvanagudi constituency.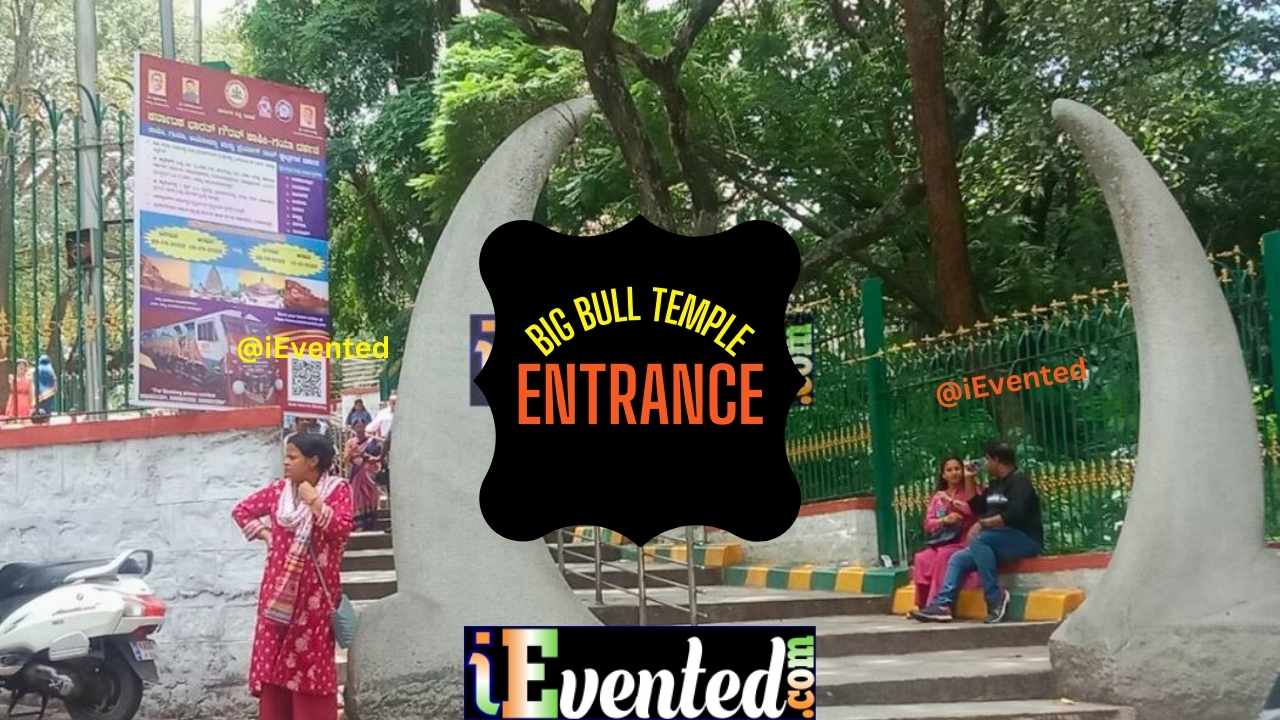 The stairs of Bull Temple Bangalore are not too many, but there are steps you gotta take as the temple is on a hillock.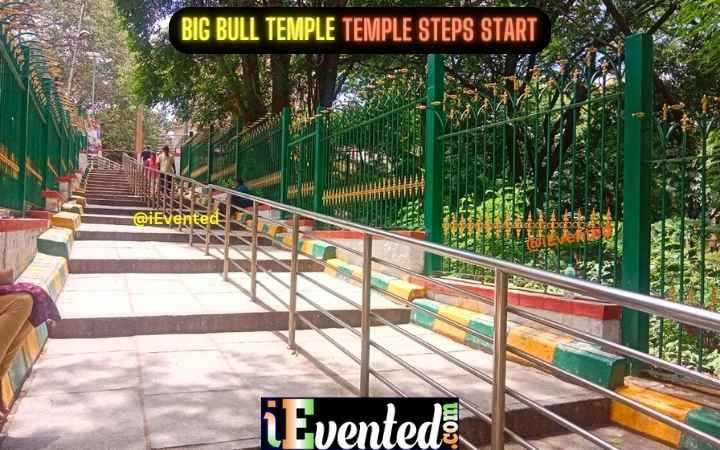 As you near the Big Bull temple Gopura, you'll see the Gopura of the temple as seen in the image below.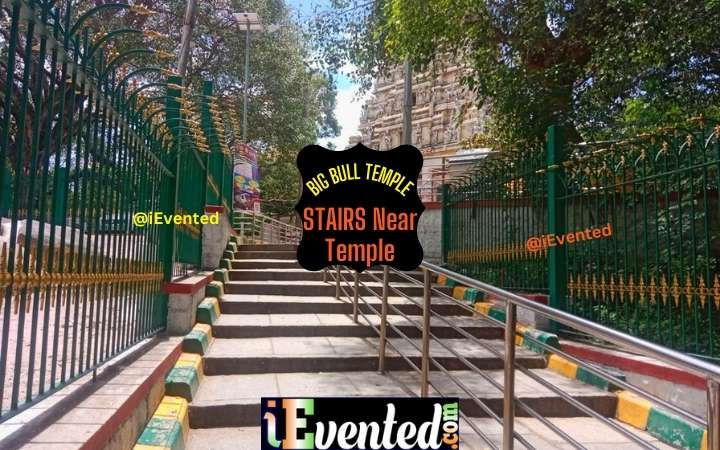 As you climb the not-so-hard stairs of the bull temple, you can see the Plaster of Paris (POP) art showcasing the Kadlekai Parishe, the greatest event in Basavanagudi.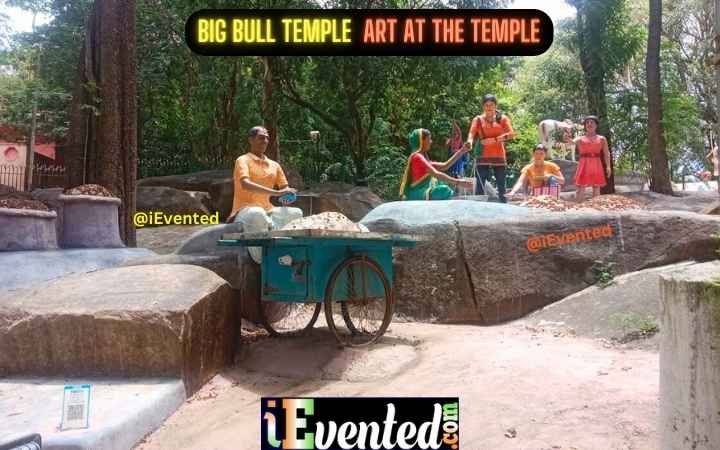 Take a closer look at the above image showcasing the art of Kadlekai Parishe of Basavanagudi.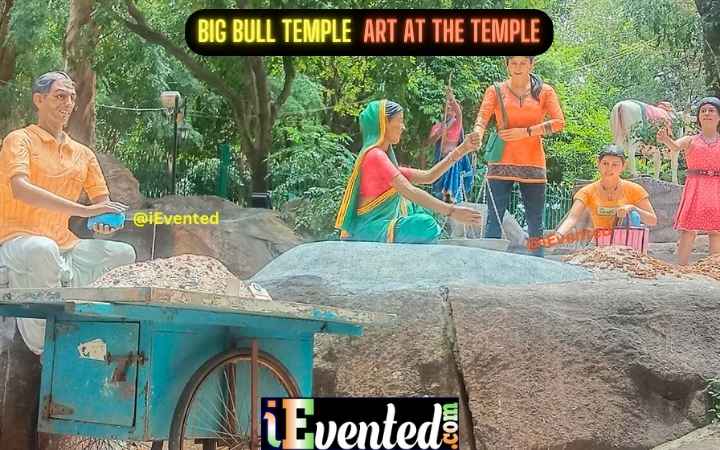 There are other structures also showcasing the Kadlekai Parishe, meaning the Groundnut festival which happens only at the Bull temple, in Bangalore.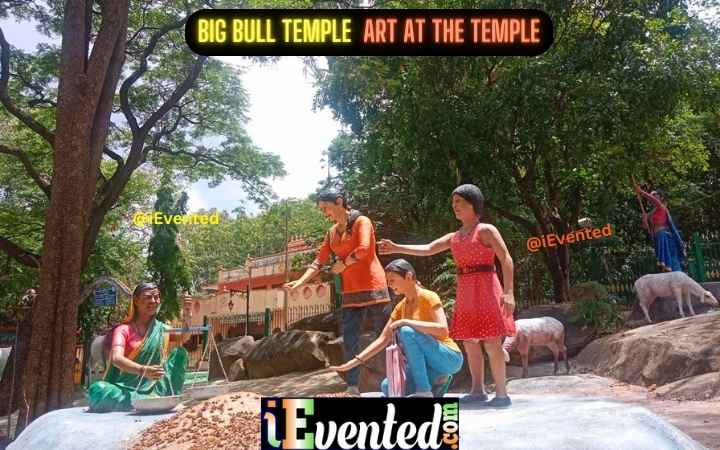 Let's see one more art structure created in Basavanagudi Temple Bangalore and I promise to show you the full temple visually later.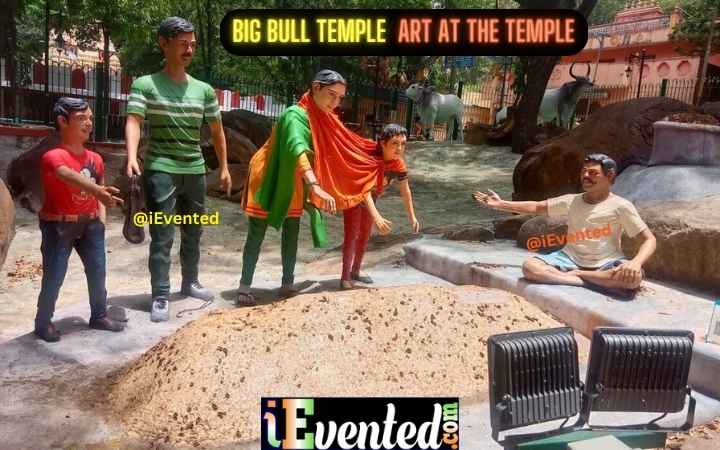 You'll see this structure at Big Bull Temple as you near to the Gopura.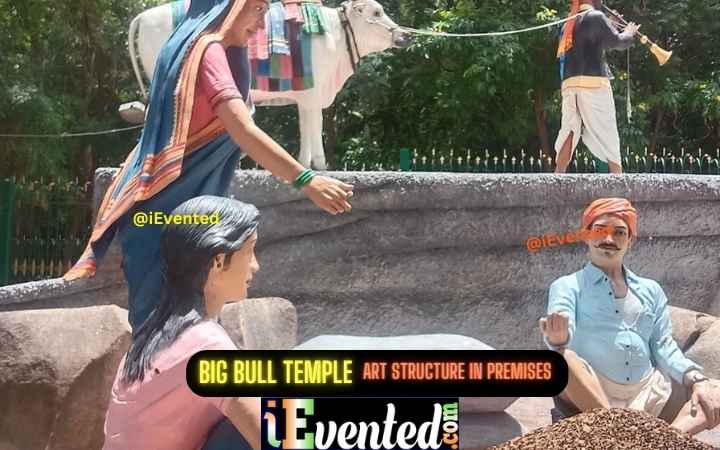 You'll see some more art inside the premises of Bull Temple like this: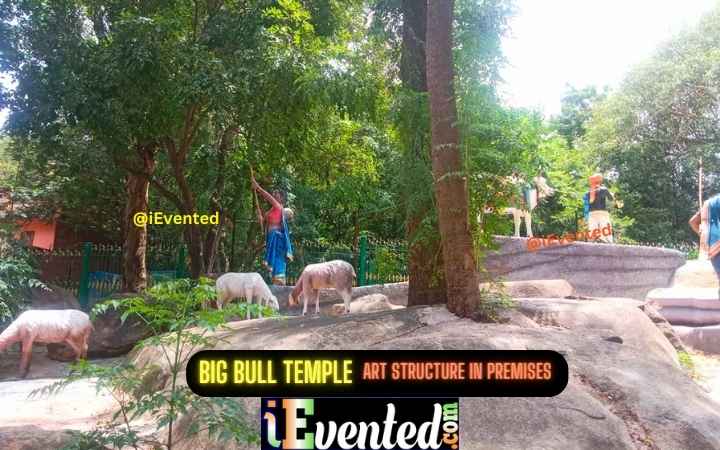 Ok. I know you are keen to see the temple gopura and how it looks inside. Lemme not disappoint you. Here is the temple Gopuram of Big Bull Temple Bangalore.
The above gopura is the entrance to the Big Bull temple. The big pole you see in front of the temple is called Garuda Gamba. This pole absorbs all the highly intense negative power of god and lets others consume the positive energy.
Here is a glance at the Big Bull temple Basavanagudi once we enter through the Gopra above: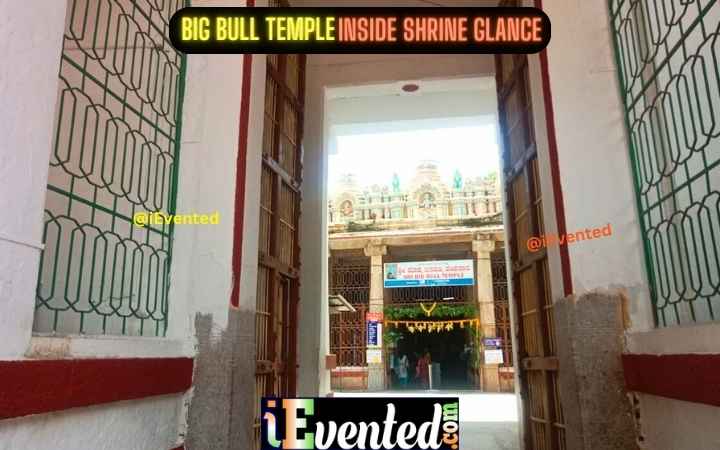 Once you step into the Bull Temple through the Gopura you'll see the sacred Sri Big Bull Temple with the Basavanna after which the whole constituency is named Basavanagudi, is the Mahanandi, the vehicle/Vaahana of Parameshwara seated.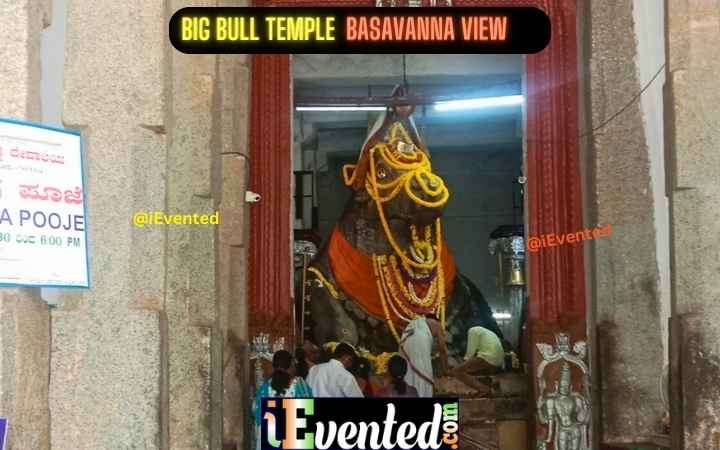 I know you may want to see the whole Basavanna from all angles. Allow me to show you more images of Bull Temple Bangalore from all angles clockwise.
Side View: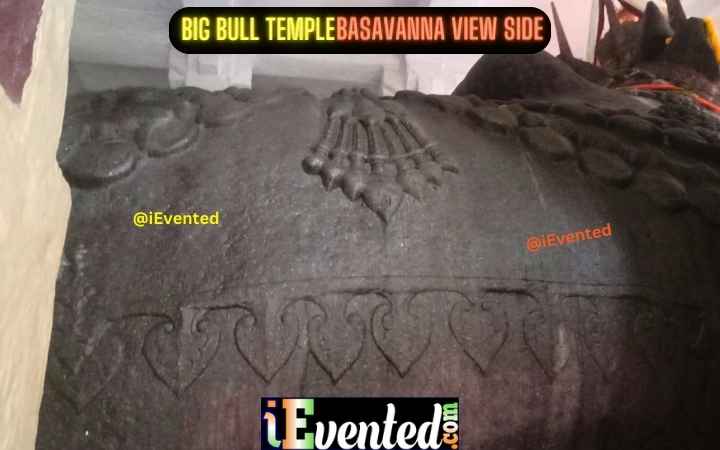 You may see that there is a Trishula which is stuck on the head of Basavanna in Bull Temple, it'll be more clearly visible in the other side view. I'll surely tell you why the Trishula was stuck on the head of Basavanna further.
Now let's look at the Bull Temple Bangalore Basvanna Back side view: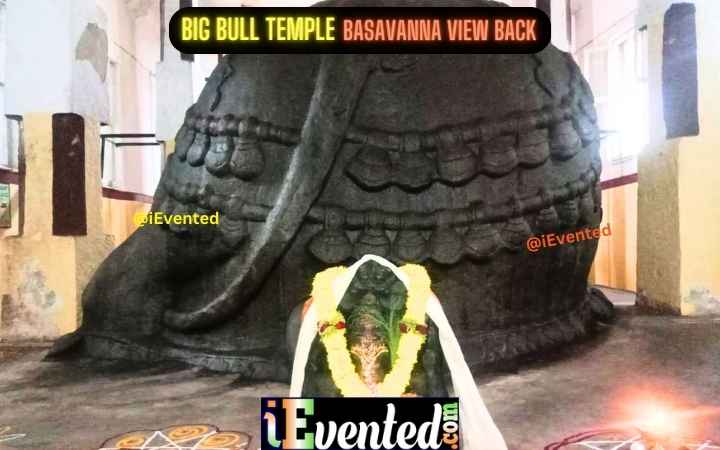 You may see the intricate details of the sara or gejje on the basavanna, so nicely designed.
Now let's see the other side view of Basavanna I'd promised, with the view of Trishula: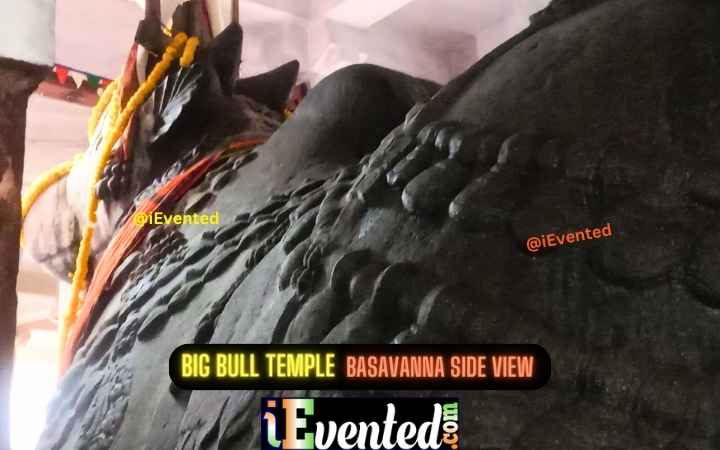 OK. As promised you may see the Trishula at the top of Basavanna in Bull Temple Basavanagudi.
The Basavanna in the temple is the real Maha Nandi which used to tour the place regularly.
Since the Basavanna would eat of all the produce by the farmers, farmers went to pray of Maha Nandi.
Farmers promised to make a fest called Kadlekai Parishe every year to please Basavanna with their offerings.
Maha Nandi agreed and sat as a stone here and a temple was built.
But since Basavanna was alive, he started growing in height, every year.
They increased the roof, but the growth of Basavanna was so high that Basavanagudi Temple was not enough.
So the priest, requested Basavanna to stop growing as Bull Temple could get fully destroyed.
Basavanna then advised the priest that his growth could only be stopped by Lord Parameshwara.
So the priest took a Trishula which is the main weapon of Lord Shiva and put it on Basavanna's head at Sri Big Bull Temple.
Since then the growth of Basavanna stopped and you may see the Trishula on the head in the temple.
Once you are out of the temple, you may see the Arali Katte at Bull Temple, where the Arali Mara with people trees.
To the side, you'll see the Naraga Katte, where there are stone snake structures set up at Big Bull Temple Basavanagudi.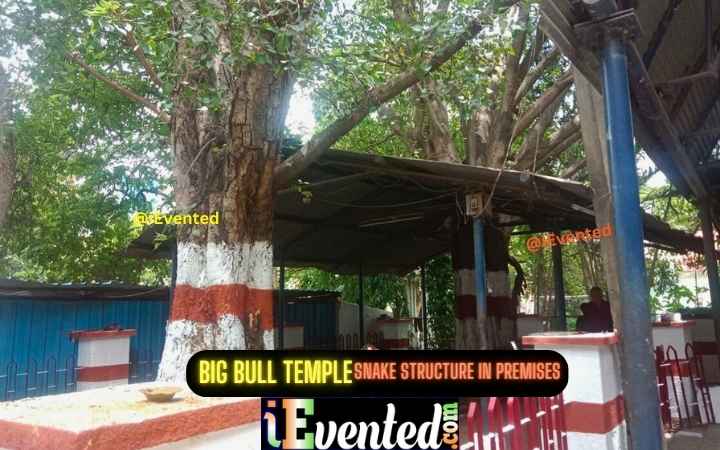 Once you walk down from the temple you'll find the Bedara Kannappa temple, who sacrificed his eye to give alms to lord Shiva, to the right.
Also you'll find the Shiva temple as you walk down the path from Basavanagudi Temple.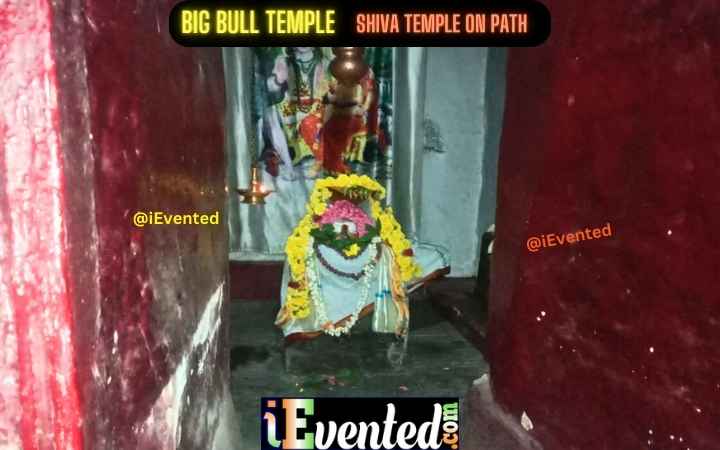 Ahead you'll find the Biggest Ganapathi temple next/outside of the Basavanagudi Nandi Temple. I'll give you a full visual tour of Dodda Ganapathi temple in a new post.
But here are the glimpses of Dodda Ganapathi temple next to Bull Temple Basavanagudi Bangalore.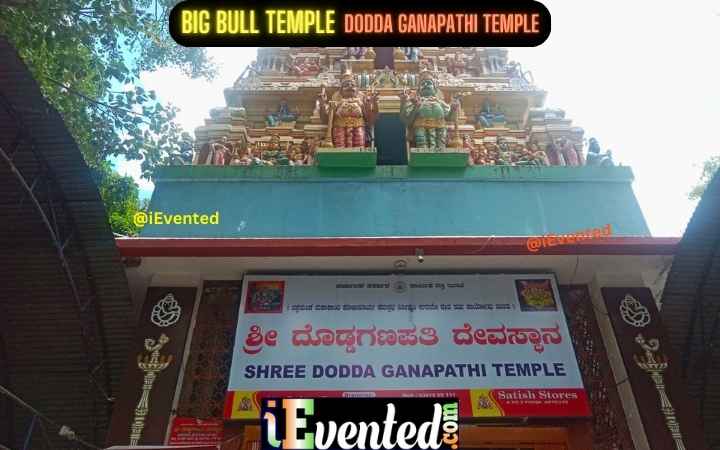 Big Bull Temple Must Know Details:
| | |
| --- | --- |
| Bull Temple Location | Bull Temple Basavanagudi, Bengaluru |
| Attire to enter Bull Temple | Traditional clothes are best, Jeans and Shorts are allowed too. |
| Also Known as | Big Bull Temple, Dodda Basavanagudi, Basavanagudi Nandi Temple |
| Bull Temple was Constructed by | Oora Dore Kempe Gowda |
| Basavanagudi Constructed in | 1537 |
| Basanavangudi Statue Dimensions | 15 Ft. (height), 21 Ft. (length) |
| Bull Temple God | Basavanna/Maha Nandi Vehicle of Parameshwara also called Lord Shiva |
| Bull Temple Bangalore Timings | 6 AM – 12 PM and 5:30 PM – 9 PM Daily |
| Can you Take a Photo? | Allowed |
| Bull Temple Entry Fee | FREE |
| Attractions within 1KM | Dodda Ganapathi Temple, Bugle Rock Park, Govardhana Giri Krishna Temple, Raghavendra Swamy Temple and Venkateshwara Temple in the Front, Gavi Gangadhareshwara Temple, Puttige Matha (Front of National College), Famous Gandhi Bazaar Market, Vinayaka Temple, Netkallappa temple, MNK Park, Lalbagh, MTR. |
| Famous Eateries around Bull Temple | Hotel Dwarka (Kaali Dose, Chatni), Vidyarthi Bhavan (Masale Dose), MTR (Unlimited Meals), Roti Ghar (Unlimited Bharjari Oota), Sri Udupi Sri Krishna Bhavan (Famous for Baale Ele Oota meaning Banana Leaf Veg Meals). |
| Fest at Bull Temple | Kadlekai Parishe around November or December |
| Nearest Bus Stop | Ganesh Bhavan (Buses ply From Majestic and Market) |
| Nearest Metro Station | National College Metro Station (1.3KM Walk / Auto Ride to reach Bull Temple |
Bull Temple Bangalore Timings:
The Bull temple is open for 9.5 hours daily without any restrictions on holidays.
It'll be open 365 days of the year.
The Bull Temple Basavanagudi Timings are from 6 AM to 12 PM and 5:30 PM to 9 PM.
During Kadlekai parishe, the Basavanagudi Temple Timings is for 17 hours without break, 6 AM – 11 PM.
Basavanagudi Temple History:
Basavanagudi was previously surrounded by the villages of Gavipuram Guttalli, Sunkenahalli, Mavalli (Now famous for MTR), and Dasarahalli where groundnuts were grown.
Every full moon day, a bull used to raze the whole of these villages and destroy the groundnut crops.
Since the Basavanna was very hungry, he used to eat all the grown crops.
Whole villagers came to Basavanna and requested Karune meaning Daye.
The Basavanna offered to build a temple for him and he would be seated in the temple as a stone.
Hence the Kempe Gowda of Vijaya Nagara built the Basavanagudi also called the Bigg Bull temple.
The farmers then decided to give their groundnut crop offerings to Basavanna on the last day of every Karthika Somavara (Karthika masa Monday).
This is the story behind the bull temple and Kadlekai Parishe fest, how it all started.
Attractions within 2 Kms from Bull Temple Bangalore:
The very famous Dodda Ganapathi Gudi is just next to the Bull Temple Basavanagudi. It houses a massive structure of Lord Ganapathi, which is a Udbhava, meaning self-created, not artificial.
If you cross the road, you'll find the Nava Brundavana Matha and Venkateshwara temple. This is a must-visit.
Within 200 meters, you'll find Govardhana Giri temple, showcasing, how Lord Krishna saved the whole village from a flood by lifting the mountain Govardhana Giri.
In 500 mtrs. you'll find Hotel Dwarka very famous for the Kaali Dose and Butter with mouth-watering chutney.
In a 1 km radius, you'll find Vidyarthi Bhavan, famous for Masala Dose.
In 1km you'll find the famous Gandhi Bazaar Market, where you can do a lotta shopping at the cheapest prices.
In 1.3 km you'll find Puttige Matha to visit, ladies should wear churidar and gents should wear shirts and pants, no shorts allowed inside.
In 1.3 km you'll nearest metro station National College metro station, where you can find the metro from the Majestic.
Within 1 km you'll find Gavi Gangadhareshwara temple, where you'll find the Shiva temple in a cave. Mind you you've to wear traditional clothes here. No shorts.
At 200 meters, you'll find a 3000-year-old rock garden at Bugle Rock, with a 1.9 km walk path, open from 6 AM – 10 AM and 4 PM – 7:30 PM.
At 1.2 km you'll find MN Krishna Rao park which has a 2.9 km walk path and park and kids play area open from 6 – 9 AM and 4 – 8 PM.
At 1.8 km, you'll find Lalbagh, with lots and lots of attractions like a lake with swans and lots of birds flying and swimming, a glass house, tree carvings of fallen trees at the park, 9 km walkways, and superb fountains. Travelers have to pay 20 for entry per person here.
Since Basavanagudi is a very progressive place, there will be new developments happening all the time, and will keep updating the new attractions near Bull Temple Bengaluru.
What to Eat Around Bull Temple Bangalore?
1) Best Bakery items at Srinivasa Brahmins Bakery:
Within 2 minutes of walking towards the signal after crossing the road, you'll find super fresh baked items at Srinivasa Brahmins Bakery.
You'll find great Veg Puffs, a variety of cakes, Nippattu, Kodubale, Bread, Congress Kadlebeeja, etc.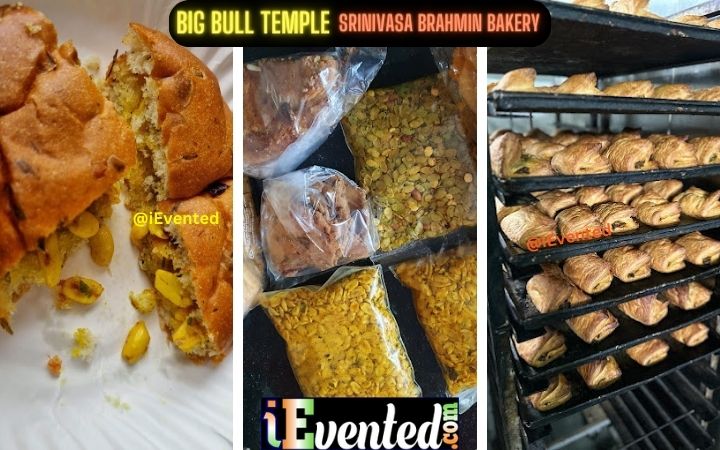 2) Masale Dose in Vidyarthi Bhavan:
In a 500 mtrs walk to Gandhi Bazaar, you'll find the world-famous Masale Dose at Vidyarthi Bhavan visited by all the celebrities of India.
The Crispness of Masale Dose combined with superb chutney is a great combination in the mouth!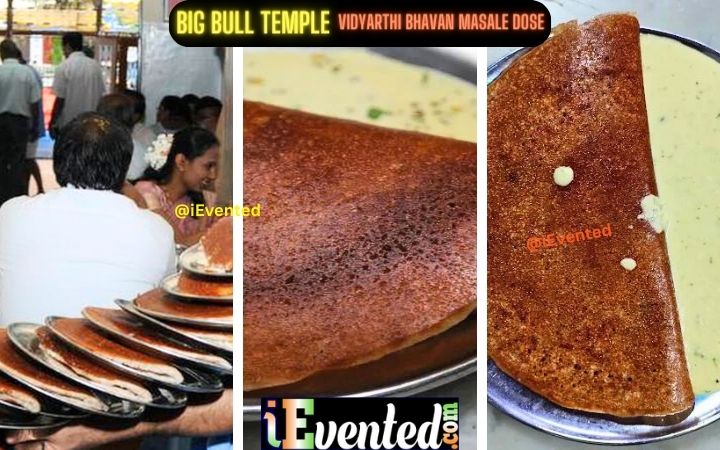 3) Khali Dose in Hotel Dwarka:
In about 500 meters in the opposite direction to NR.Colony, you'll find Hotel Dwarka, very famous for Khali Dose.
Khali Dose with Butter and the super tasty chutney is a combination made in heaven.
We locals go to Hotel Dwarka to eat lots of Chutney than the Dose 😄!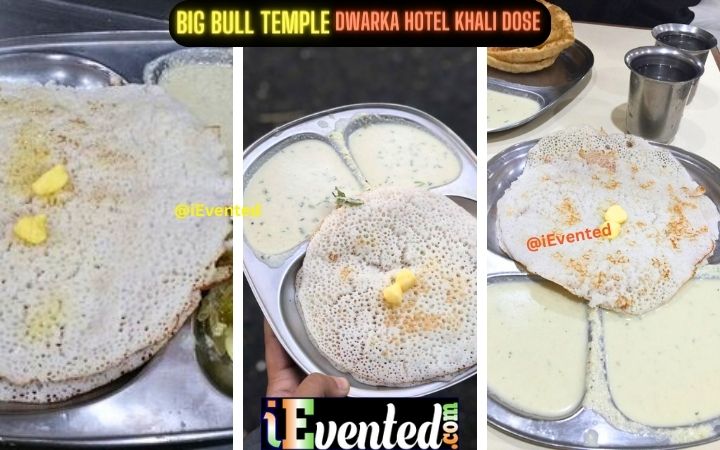 Bull Temple Bangalore Conclusion:
Bull Temple Basavanagudi is a place where you can spend at least 2 – 3 hours in nature and the artistic structures at the temple.
You will have to protect your body with an SPF cream, as the premises have very good sunlight.
The bull temple is open for 9 hours daily and during Kadlekai Parishe will be open for 17 hours.
Kadlekai Parishe dates are available in the Information of Kadlekai Parishe post happening in November or December each year.
This is a must-visit among the Famous Temples In Basavanagudi constituency in Bangalore named after the Bull Temple.
You may wear traditional clothes like Panche, Kurta for gents and Saree or Churidar for ladies, as you would visit Dodda Ganapathi, Nava Brundavana Matha, and Govardhana Giri in walking 2-minute distance from Basavanagudi Nandi Temple.
Just Make it to Basavanagudi and Kadlekai Parishe and you'll have a time of your life FREE (Petrol Expense Bittu).
If you liked the Kadalekai Parishe post, please comment and let us know your experience.
Follow us on our iEvented Facebook Page, Instagram, and Youtube Channel. 
Thanks for Reading my Bangalore Basavanagudi Temple post. Am Deathed Chinna ❤️