Basavanagudi Kadlekai Parishe is the most happening place to be in the whole of India.
Family men for spending (Bodskolakke) n Horse Like Straight Targetting your Kids and Padde Haiklu for Bird Watching. Yes, there are lots of trees near Bull Temple 😉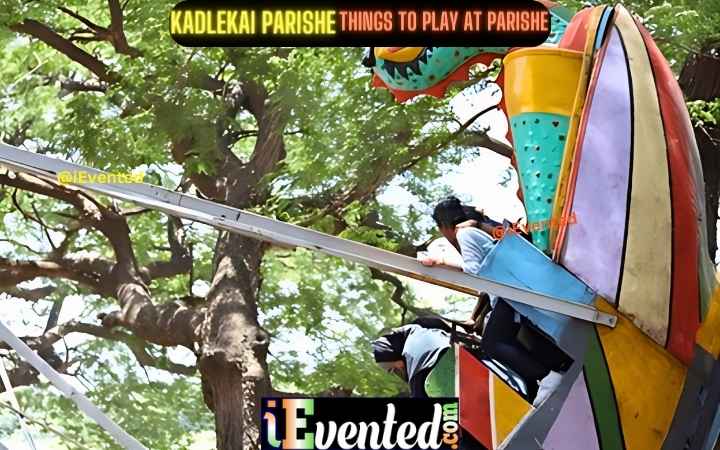 Kadlekai in Kannada means groundnut and Parishe in Kannada mean Jatre or Mela. Since Kadlekai Parishe is the Mela of Groundnuts hence the name. 
You just don't go there to buy the groundnuts, though that's the main reason to visit🤩
You get to play Rankal Raate, Columbus, Airplane Dancer, Boogie Woogie, etc. so many games I can't even spell.
Duddidre Columbussu Ilde Idre Sumne Nodkondu Vapassu. Wah Wah 😍 (Namge Naave Shoutout Kotkobeku)
There are a plethora of eatables on Bull Temple Street that can give you the Best Bulged Stomach within this day!
Varshada Poorti Excercisu Onde Dinakke Excess Sizzu 😂
Starting from Gokhale Institute to Dharmasthala Manjunatha Kalyana Mantapa you are up for fullu enjaaymyant.
MUST SEE VISUAL TOUR: Big Bull Temple Visual Tour with Full Details of the Place
Kadlekai Parishe Post Contents:
Do you know Kadlekai Parishe started in the first place? (

Fullu Serious Stuffu

)
☝️ Back To Contents ☝️
Basavanagudi was previously surrounded by the villages of Gavipuram Guttalli, Sunkenahalli, Mavalli (Now famous for MTR), and Dasarahalli where groundnuts were grown.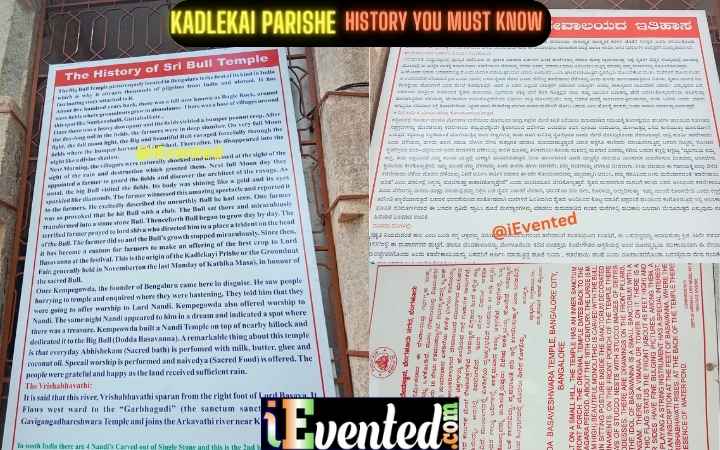 Every full moon day, a bull used to raze the whole of these villages and destroy the groundnut crops.
Then the whole of villagers came to the Basavanagudi and decided to give their groundnut crop offerings to Basavanna on the last day of every Karthika Somavara (Karthika masa Monday).
This is the story behind Kadlekai Parishe (shaart and sweet, isn't it?)
Main Deity of Kadlekai Parishe: (Bhakthi Material 🙏)
☝️ Back To Contents ☝️
Basavanna or Maha Nandi, the Vahana (Mount or Vehicle) of Lord Shiva is the main deity prayed on Basavanagudi Kadlekai Parishe.
Here is the entrance of Big Bull temple, the Kadlekai Parishe Location: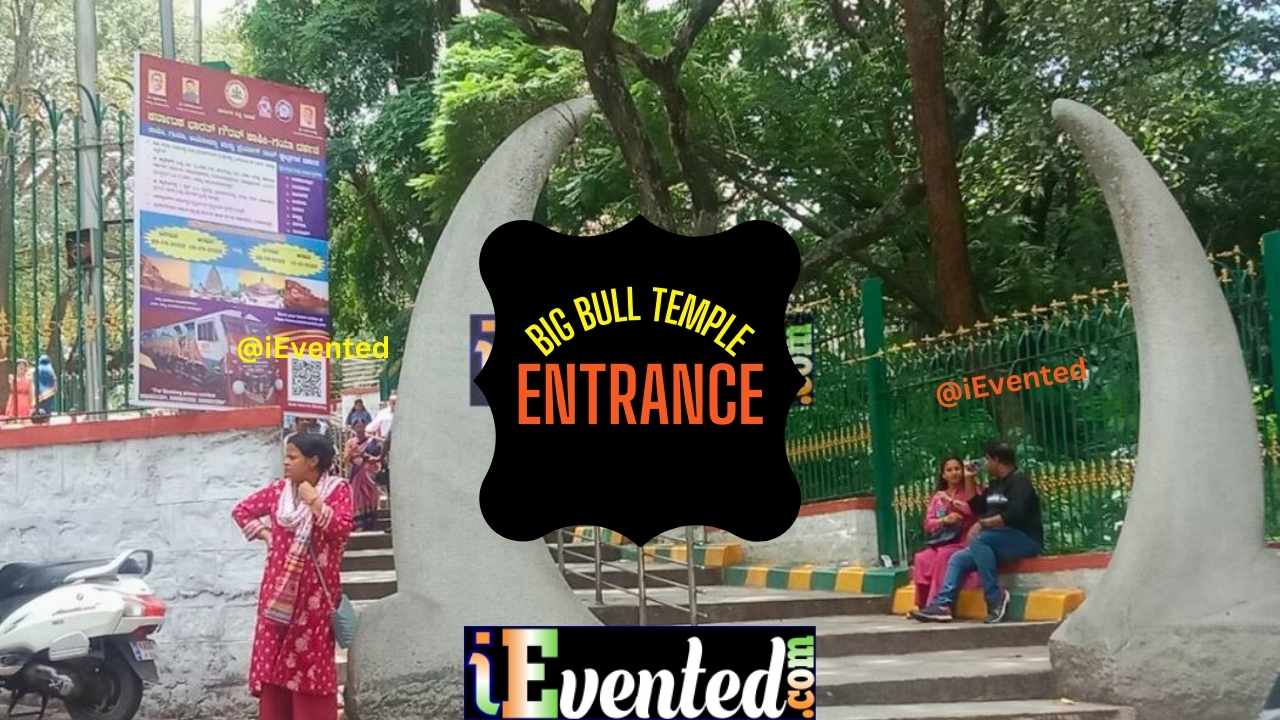 You may see the full details the Bull Temple, the main location where Kadlekai Parishe is held in this Big Bull Temple post.
Here you enter the bull temple with the Gopura in the front.
It's believed (As my Mother has Mentioned 🙂 ) that if we do not see Basavanna, you get to be a Katte (Ass) in your next Janma or next birth.
So you too please at least visit the premises of Bull Temple or Basavanagudi to have the Darshana of Basavanna.
If you can't visit the Big Bull Temple, you may watch it right here (Angle Angle nalli): 
Front Pose of Kadlekai Parishe Dodda Basavanna: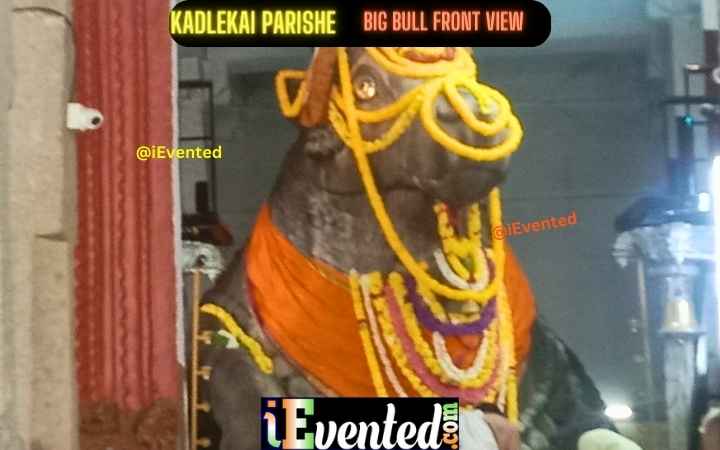 Side Pose of Dodda Basavanna: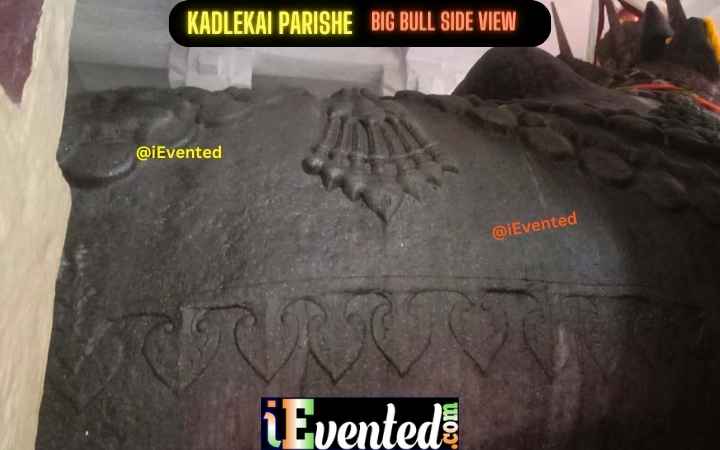 Back Pose of Dodda Basavanna: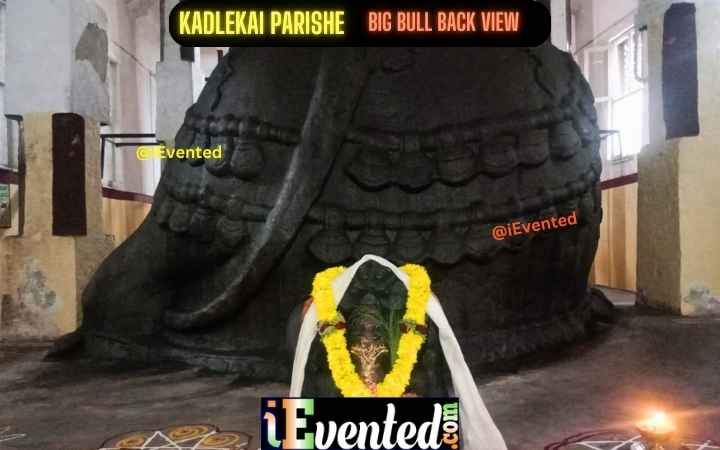 Other Side Pose of Dodda Basavanna: 
It's so damn simple to go and watch Basavanna. You'll go through the main entrance of Basavanagudi, which is over the small hillock.
You'll automatically find the route as the alternate routes on the Kadlekai Parishe day will definitely be blocked.
Get the Darshana of Basavanna, buy Gadang Kadlekai on the way out, filled with vendors on the streets, and enjoy the feast in your mouth!
When is Kadlekai Parishe Celebrated? (Kadlekai Parishe Dates)
☝️ Back To Contents ☝️
Usually, Kadlekai Parishe is celebrated on the last Monday of Karthika Maasa. This day is the Dodda Parishe (BIIIG MELA).
One day previous to big parishe, there is chikka parishe, which is always on Sunday.
Chikka Parishe means small MELA, but this is the most crowded since it's the day of the Halliday (Ridiculous HISTORY and MYSTRY)
According to Kannada Panchanga, Karthika Maasa usually is around November and December.
Kadlekai Parishe 2023 Dates:
Kadlekai Parishe Dates are decided guys, Kaalu Haakakke matte Tinnakke Ready Aagi 🤟 Kittu Gudde Haakbidi 🤞
| | |
| --- | --- |
| Chikka Kadlekai Parishe | 09-Dec-23 |
| Madhyada Kadlekai Parishe | 10-Dec-23 |
| Dodda Kadlekai Parishe | 11-Dec-23 |
Previous Kadlekai Parishe Dates:
Year
From
To
2019
24 November 2019
28 November 2019
2020
13 December 2020
16 December 2020
2021
29 November 2021
1 December 2021
2022
 

20-Nov-22

21-Nov-22
Since 2019 and 2020 were coronafied (KAARMODA KAVIDITTU) for Kadalekai Parishe, we could not make it nor did anyone!
2021 was a blast. We enjaayed the games though they were ridiculously topped prices.
Guru our own Indian Rupai 150 for Columbus (Kolluemmabussu) (Kollu me Bussu – 150*4 for family = Rs.600 Bodsu)
MUST SEE VISUAL TOUR: Big Bull Temple Visual Tour with Full Details of the Place

☝️ Back To Contents ☝️
What to Buy in Kadlekai Parishe?
☝️ Back To Contents ☝️
Obviously, you are here to buy Kadalekai and lots of Stomach Obesity Seekers.
So first let's see what to buy in groundnuts, then to the Main Eating Stuff Jhaank Food🤪. (Tinnakke Badkiro Haage Ankobedi)
But do you know that there are 3 types of Kadalekai (Groundnut)
Gadang Kadalekai (Deep Fried in Gadang means a place where the groundnuts are covered in sand and put fire below)
Raw Kadlekai
Boiled Kadalekai
1) Gadang Kadlekai:
Mine and all groundnut enthusiasts buy Gadang Kadalekai if people know about it (Strictly, if you don't know you can't 😊)
Gadang Kadalekai has blackish burnt spots on them and hence it's easily distinguishable.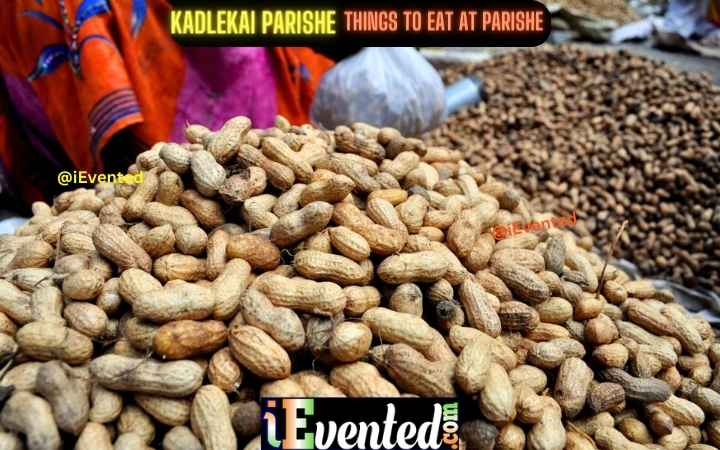 It has a burnt kind of taste and light burnt smell to it and is not raw and has a squeezed appearance inside the shell.
The taste of fried/burnt nuts is easy to find. (ತಿನ್ನೋದ್ರಲ್ಲಿ ನೀವು ಪಂಟ್ರು, ನಿಮಗೆ ಹೇಳ್ಕೊಡ್ಬೇಕಾ?)
Though many vendors may fool you (Kivi Mele Hoova) for hardly fried groundnuts as Gadang Kadlekai.
Now you know the taste and how it looks and feels. Take a couple of Kadlekai and eat them. Yes, They are FREE! 
You may walk away even though you ate the samples and vendors would not care or curse you.
With your full heart and your acquired knowledge of taste, smell, and sense, go BUY GADANG KADLEKAI!
It was around 30 per liter in 2021. Prices may change exorbitantly this year. Jobge Sakath Katri
☝️ Back To Contents ☝️

2) Raw KadleKai: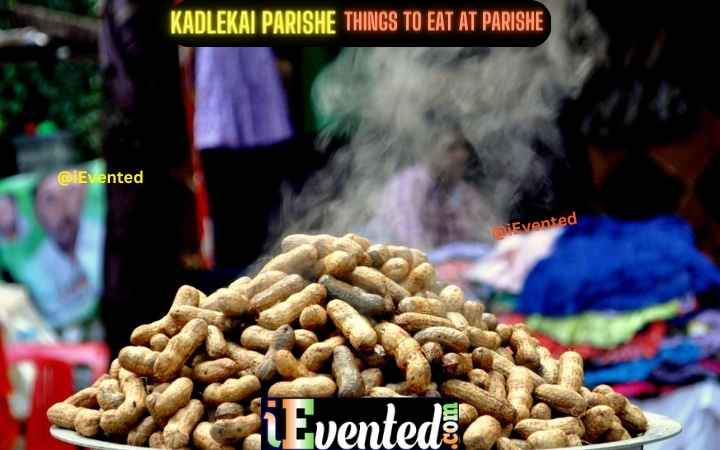 This is easy. I need not be a guide for you here! Aye?
Though, it's my spell-bound duty to educate you even though you are 100+ years old 😉
Raw Kadalekai has a raw feel after you peel. This is how Kavite Kavite Song Lyrics got written by rhyming words. Not by Me of course 😊
It's slightly pinkish, creamish mixed color obviously gradient color not just one color so can't give a hex code for it 😛
Its taste is easily distinguishable non cooked taste, consider it like a cooked rice.
Whatta a comparison, comparing cooked to raw 🙃! Aahhe I can't think of any better comparison dear. Just move on.
ಸ್ಯಾಂಪಲ್ ಕಡ್ಲೆಕಾಯಿ ತಿಂದು ಟೇಸ್ಟ್ ನೋಡ್ಕೊಂಡು ಬಂದ್ಬಿಡಿ.
I don't like raw kadlekai until you wanna waste your 1050 rupees gas or 8 rs. per unit of electricity to use induction with 3 vishil in the cooker with ruchige takkashtu uppu!
Rs.50 per KG in loccall markettu.
☝️ Back To Contents ☝️

3) Boiled Kadle Kai: (Comes with the price of Gas 😉 Like GST Tax)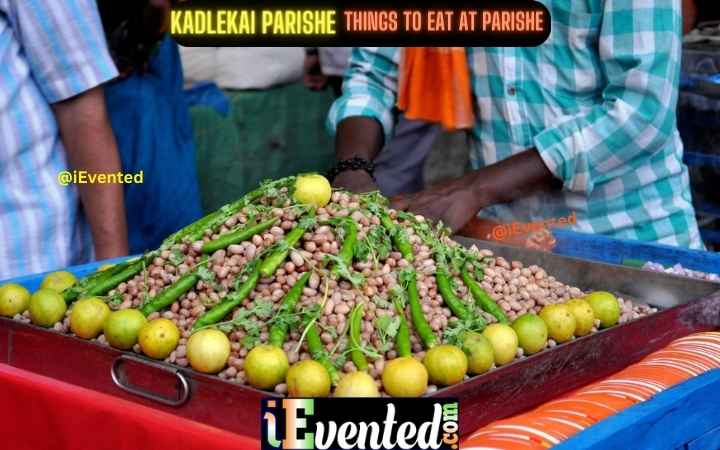 Gas ulsi Beysida Kadlekayi Tinni. Sample FREE!
I am getting the feeling that, if I try to explain, you may kick me outta my own blog!
I'm shy, let's eat Beysida/Boiled Kadlekai!
Boiled Kadlekai is tasty, (Ruchige Takkastu ilde idru), some salt will be in it while boiling!
Eat whatever you can in samples and get some by Buying 👊
Wokay, by the time you come back, eating the FREE samples itself will be enough to fill the stamakku because you mekku a lot.
Not more will I explain, or you may say I Dash YOU!
Rs.10 per small paper pattna. (Small Paper folded to hold beysid kadlekai)
☝️ Back To Contents ☝️
4) Lotta Goodies:
Lotta artistic stuff like Clay Bombe, Clay artistic exhibits, and Clay Deepa (Don't be a November Kannadiga, Be a Naavu Member Kannadiga.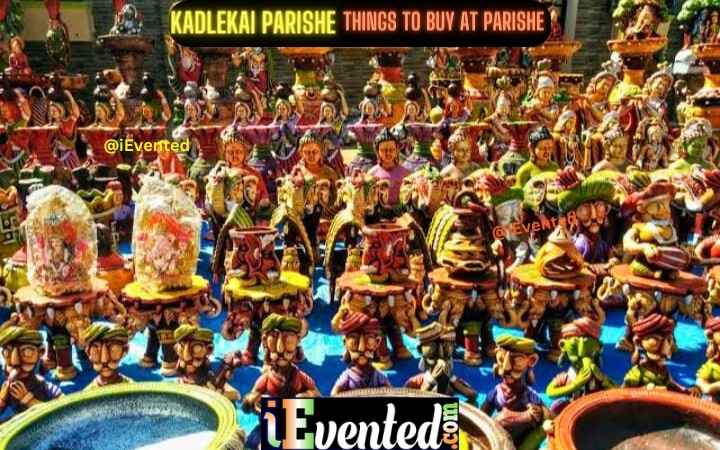 Lotta ladies stuff to buy like ear rinnngs at soooper cheap rates of Rs.10/pair and lotta byaangals on street.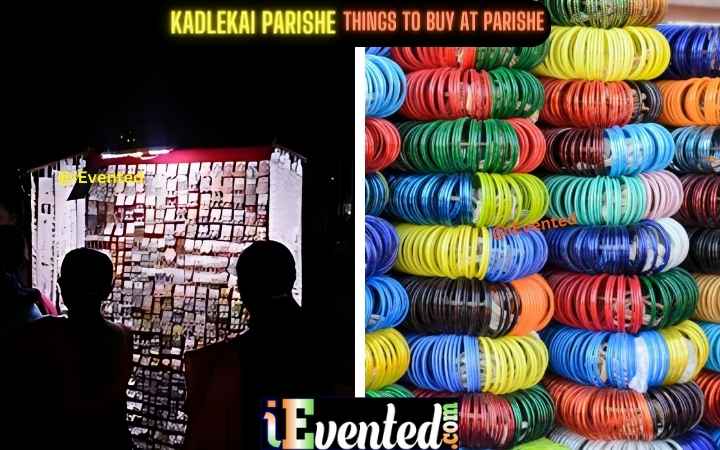 Ladies get lotta terracotta chains and they look reaaaaly great on you ladies. Be ready to bargain to your heart's content.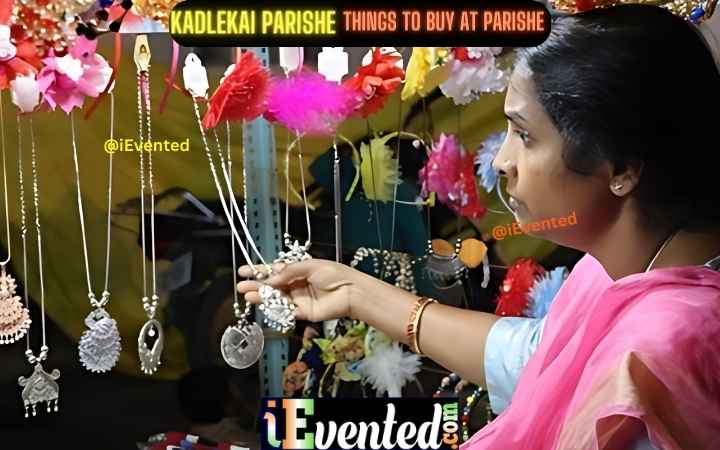 We bought Plastic Cups (ondu 1/4 ltr irbeku) for Rs.5 each. If you got a cup for Sankranti Ellu, Yep, that was Rs.5.
Bought covering plastic plates for Rs.5 each. (Ondu Angayyashtu Agla meaning as big as my palm).
Shoes are a lot cheaper on the road. Many say they are seconds or Kalla maalu, but has the quality of firsttu, and look bestu.
Keychains and engrained pens with your name!
Services like a Bombe Helutaite Astrology! All the Best of Luck if you listen to this! Comment on your experience!
The formal Shoes were Rs.300 and fit me well! Nope, I wear a 2K one for my MEETINGs! Ahem Ahem
Poom Phoom Phhhooom Pom Pom, large sound-making bugles of the size of a pen! It usually will have some plastic thing folding when blown! Friggin shucks, they sound like closing your ears. But you'll get the adrenaline rush when others are disturbed!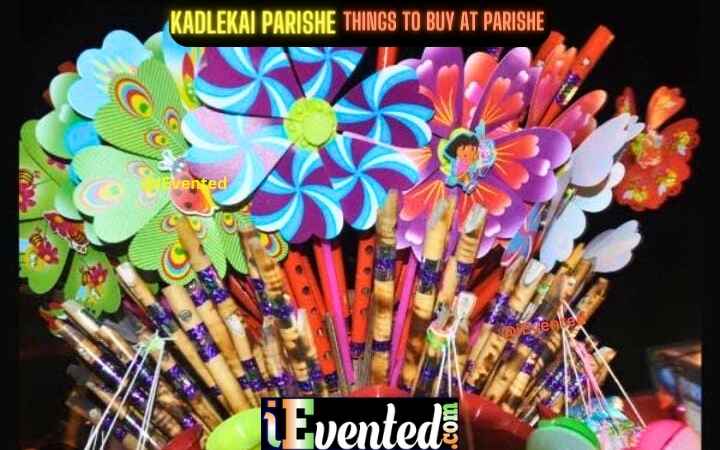 ☝️ Back To Contents ☝️
5) Kids Stuffff: (Bodskolakke Ready)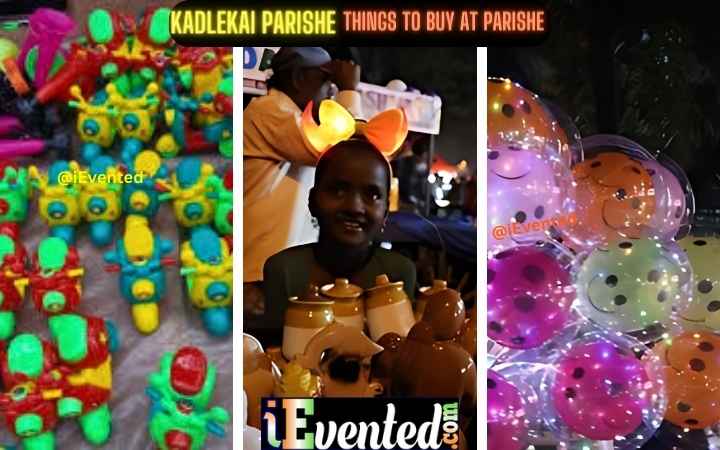 Gun, Toys, Flying Drone throwers, Fly Wheel, Chinka Minka light toys, bubble waatar blowing small to biggest bubble
(BUY one sure shaat, no matter whaat).
You know buddy, what costs 10 rupaayi on normal days like a balloon with a rubberband to hit it, will be 50 rupaayi on the day of Kadlekai Parishe.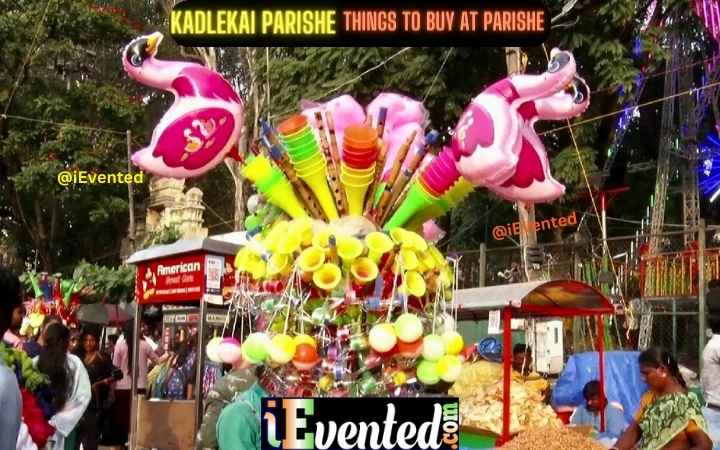 You name it and you get it all! Stuff your money in your pockets or get your kids going with your spouse again for more balding!
Lotta wearables, like Bhootha Masks, Bhootha horns with lights, light watches, and lotta fancy taays to take double bucks for simple taays.
Anyways HYAAAPI PARENTING! Welcome to the Parenting Club if you were reading this!

MUST SEE VISUAL TOUR: Big Bull Temple Visual Tour with Full Details of the Place
☝️ Back To Contents ☝️

What to Eat? What Not to Eat in Basavanagudi Kadalekai Parishe?
Vivaaha Bhojanavidu Vishishtha Bhakshagalivu!
Mama Mia, Kattrsakke Ready Aagi. At least Ododralli and Nododralli 👊
God, it's hard to say if it's Junk food or Jhaankh Food. Starts mouth watering just by seeing or reading!
Gadang Kadlekai is the first you would buy and eat at Kadlekai Parishe In Bangalore.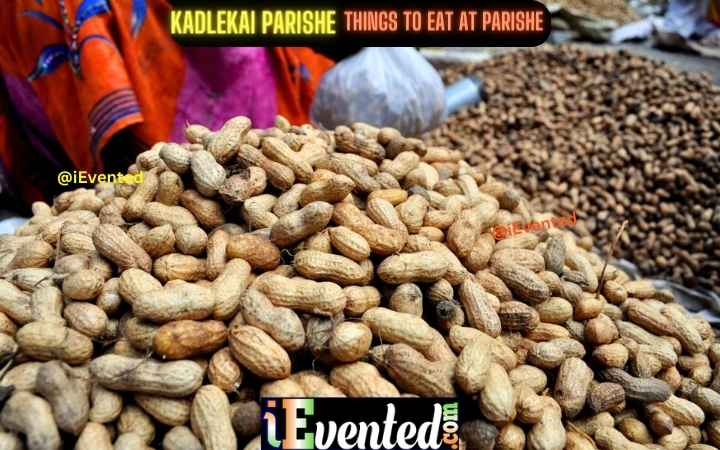 Churmurified… You'll find 100s of vendors ready to enchant your tongue with Churmuri testified. Eat to the heart's and stomach's content.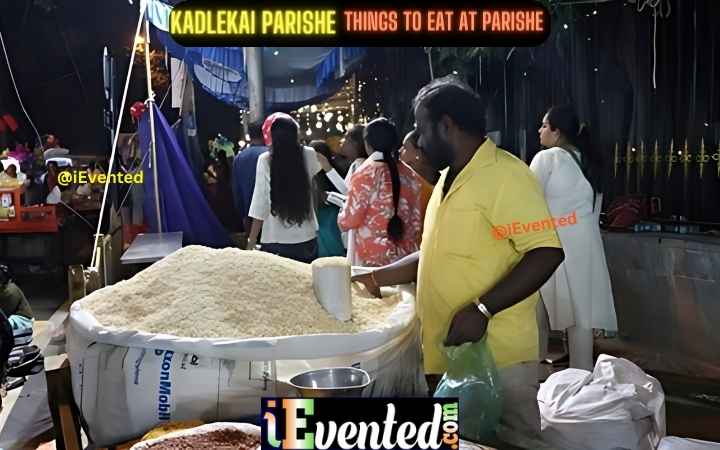 There are chips chips and lott more chips all over the place at Basavanagudi Kadlekai Parishe. Best part about these chips are they are sweet potato chips, more cholesterol than Potato!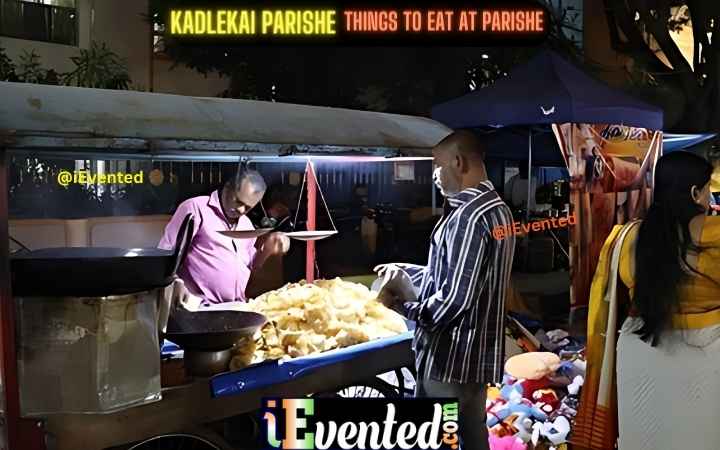 Lotta vendors selling Kadle puri.
Mind you they'll mix mixture with it.
Ask them not to.
Cuz they mention it is a tradition. If so, ask them to give it separately.
Cuz, the mixture will be old and will not be eat worthy!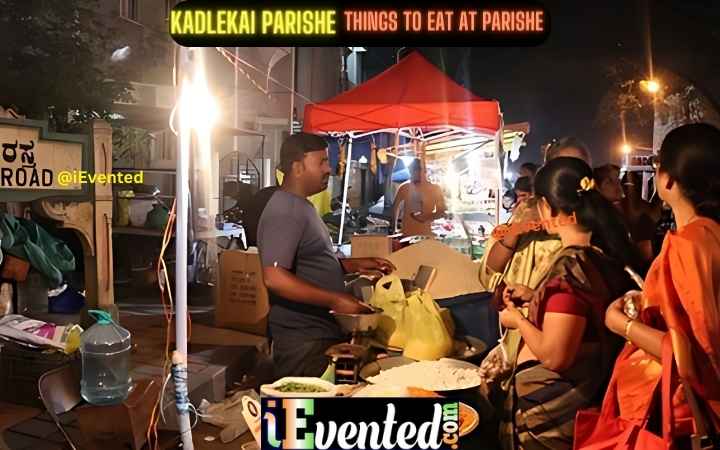 More Churmuri to make you churmurified! I praaamised to keep your stamaach fullu with my visual story telling!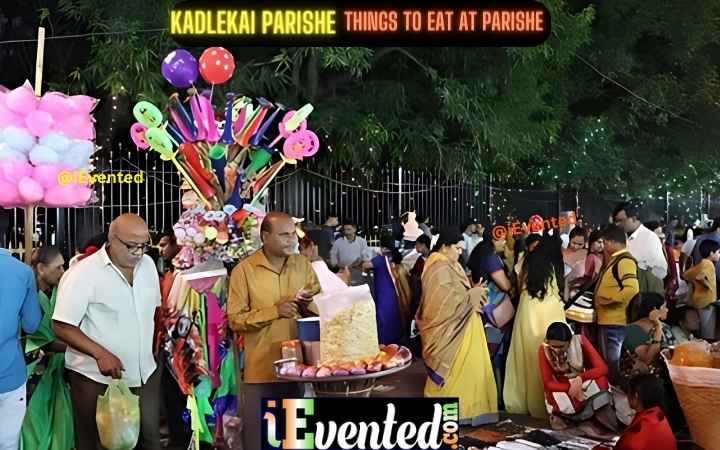 Beysida Kadlekai is a must mixed with lemon, is paaarfect for Kadlekai Parishe Basavanagudi to staaart or Yend.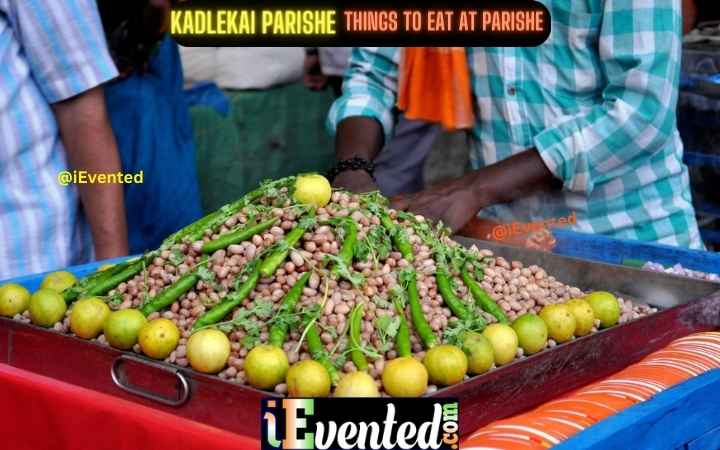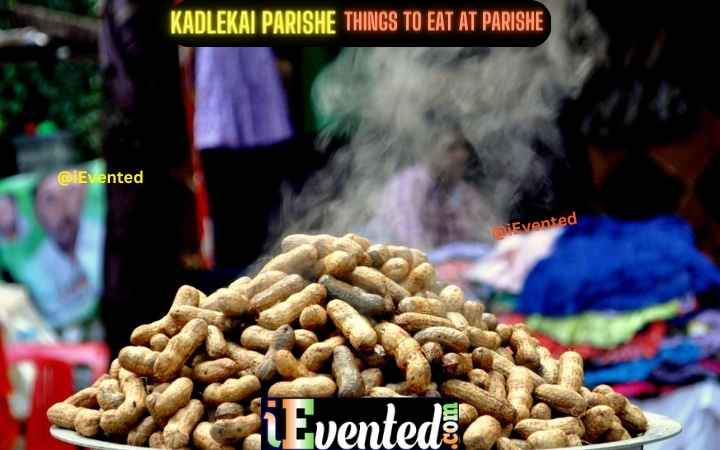 You get Bhoochakrada gedde (the root of a tree). Subtly sweet around Rs.40.
Eat Genasu Chips for Rs.40 for 100gms.
Churmuri (Dry Bhel Puri) is everywhere. Looks like the place is churmurified!
Gojjugalu (Puliyogre Paste,etc.) Eat Gojju, Jotege FREE Bojju
Kodbele, Biiiig Happla, and Chakli (Baayalli Neeru Banta 😛)
Popcornu and Sweet Cornu
Samosa and Kachori
Twisted Aloo Sticks, Biiig Fat Potato stick with lotta Cholesterol!
Bonda and Bajji
Of course chats, it's omnipresent!
Lotta FREE Sample Kadlekai
Abbo, nenskonde hotte birdhoytu.
MUST SEE VISUAL TOUR: Big Bull Temple Visual Tour with Full Details of the Place

Its Baarso Timu Guru, Chindi Chitranna Ebsu, Boondi Mosranna Kattrsu, Light sweat Torsu, Varshadashtu Bojju Fixu, Adakke Gym Membership Barsu, Cycle Tuldu Varsha Poorti Kargsu, Matte Kadlekai Parishe Dina Batting Coursu!
☝️ Back To Contents ☝️

What to Play? (Naat Just Faar Kids)
You know you can enjoy lotta games like Columbus (Rs.150/head as per the board, if not dismantled 😛).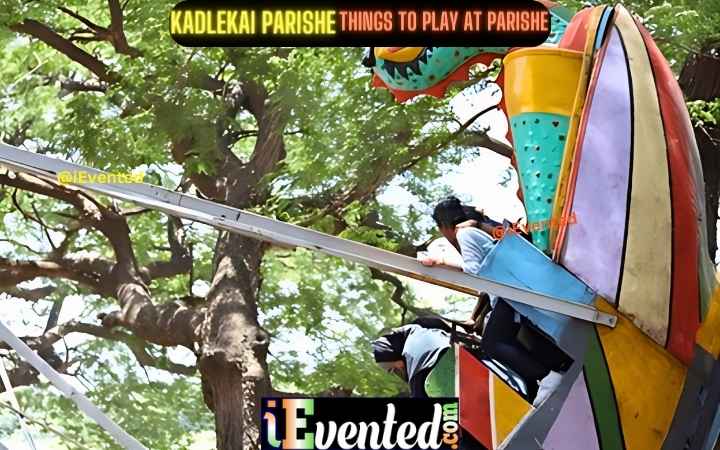 Rankal Raate (Rs.60 per person) and Kadlekai Parishe Games is incomplete without playing Rankal Raate.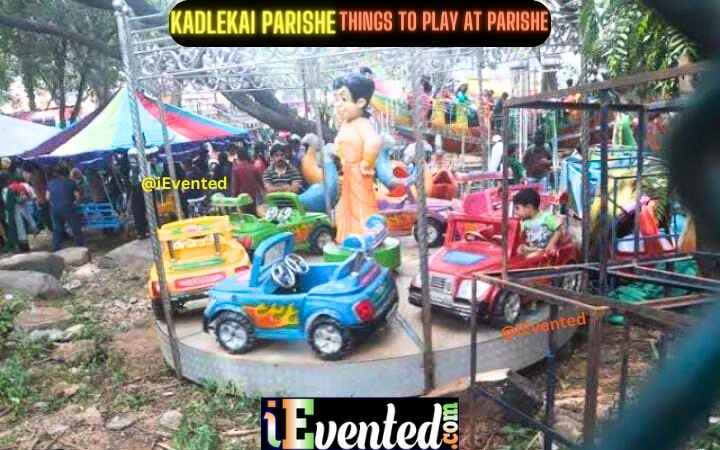 Airplane Twister (Rs.60), Small Twister(Rs.30) the person turns by hand, Kids Aeroplane (Rs.100/kid), and big merry-go-round(Rs.80).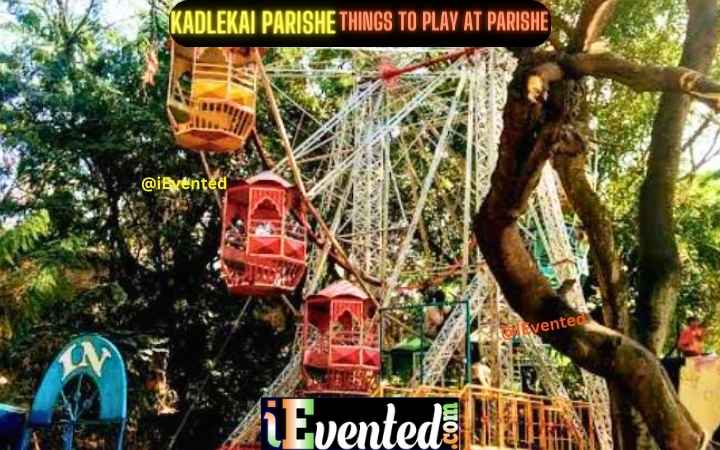 Maybe a lot more, but I only remember this much!
If you know more please let me know in the comments!
Saaka Guru Basavanagudi Kadalekai Parishe Touru?
MUST SEE VISUAL TOUR: Big Bull Temple Visual Tour with Full Details of the Place

☝️ Back To Contents ☝️
Kadalekai Parishe Question and Answers (FAQs):
Q) When is Kadalekai Parishe 2023 date?
A) As already mentioned in the Kadlekai Parishe Dates heading, this year Kadlekai Parishe 2023 dates start from 9th December 2023 to 11th December 2023.
Q) How Many Times Do Kadlekai Parishe In Bangalore Happen?
A) Only one time Kadlekai Parishe is celebrated on the last Kaarthika Maasada Somavaara, meaning last monday of Karthika Maasa (Month).
Q) What is Kadlekai Parishe Location?
A) Kadlekai Parishe Location is celebrated where it all began at the Big Bull Temple premises and around bull temple road.
Q) What are Kadlekai Parishe Timings?
A) Basavanagudi Kadlekai Parishe Timings are not restricted, as mentioned in the dates, you may come to Kadlekai Parishe anytime of the day starting from 10AM till 11PM at night.
The Bull temple also will be open all the 3 days of Kadlekai Parishe for 17 hours from 6AM – 11PM.
Q) When Will Kadlekai Parishe Ends?
A) It ends one day after the Dodda Parishe on last monday of Karthika Maasa, thats on next day Tuesday after the dodda Kadlkai Parishe day.
Q) How Any Days Kadlekai Parishe Be Held
A) The fair is now officially starting on saturday before last monday of Karthika maasa and extends to next saturday for 1 week, including the Kadlekai Parishe Games and Kadlekai Parishe Stalls.
Q) What are Kadlekai Parishe In Bangalore Games we can play?
A) Refer to the heading What to play in Kadlekai Parishe above for full info with prices. Rankal Raate, mary go round, columbus, airplane, twisters, helicopter and lot more I don't know tha names of!
Q) Will Kadlekai Parishe near me happen any other time?
A) Nope only on the last monday of Karthika masa (month) Kadlekai Parishe In Bangalore Dates come up.
MUST SEE VISUAL TOUR: Big Bull Temple Visual Tour with Full Details of the Place
☝️ Back To Contents ☝️
Kadalekai Parishe Conclusion:
If you like Bird Watching this is the place to visit. As I mentioned lotta trees 😛.
Bird Sound Hearing, not at all the place! You can't hear your own voice. (Take a Bluetooth headset to call yourself 😋)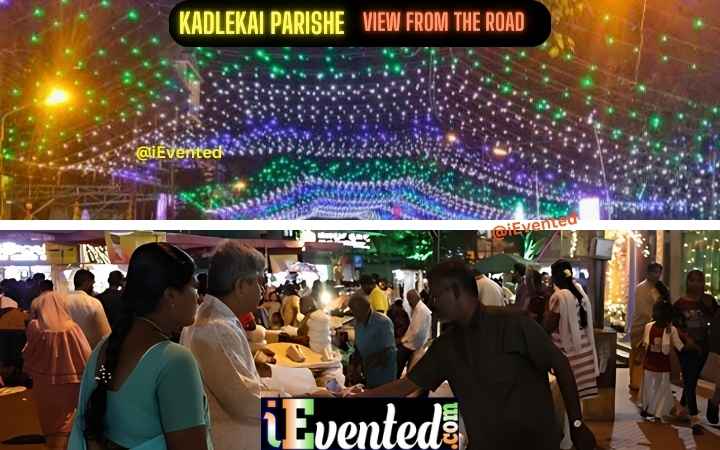 If you like to spend, this is the bestestttu placcu on eartthu! (Bodskollovrge ille Aagbeka Andkobedi?)
On a serious note(Not Rupees Note 😝)If you like to spend time with your friends, get them together to Kadlekai Parishe.
If you like Jatre or Mela or Parishe/Parshe, visiting Kadlekai Parishe should be on your bucket list before BMW.
If you are a spiritual person, Basavanagudi or Bull Temple, Dodda Ganapati Gudi like a brother to Basavanagudi and Nava Brundavana Matha and Venkateshwara Temple and Govardhana Kshetra are right there!
All in all, Basavanagudi Kadalekai Parishe is the most happening place for youngsters, elders, college-goers, teens, and a family.
You can easily spend about 3 hours on the streets. Mind your Kaalu Novu!
Just Make it to Basavanagudi and Kadlekai Parishe and you'll have a time of your life FREE (Petrol Expense Bittu).
If you liked the Kadalekai Parishe post, please comment and let us know your experience.
Follow us on our iEvented Facebook Page, Instagram, and Youtube Channel. 
PS: ALL RHYMING WORDS AND IF I OR POSSIBLY YOU TOO CAN CALL IT KAVITHE, IT'S STRICTLY MINE WAANLY. NO KAAPYING! Simp Simply Tell. You can Kaapi 👊
Thanks for Reading my Kanglish and PJs. Am Deathed Chinna ❤️
MUST SEE VISUAL TOUR: Big Bull Temple Visual Tour with Full Details of the Place
☝️ Back To Contents ☝️
Come to Kadalekai Parishe, Enjoy the Day!